British Woman says she would choose America every time. Here's why.
Millie Hart shared her biggest misconception about America before moving from England and says the whole of America often gets blamed for the actions of a few.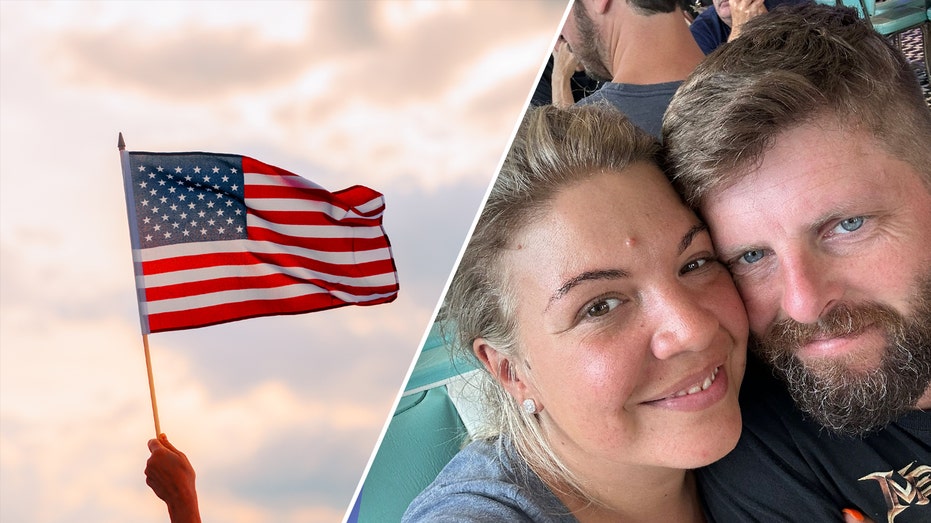 A British woman shared her biggest misconception about the U.S. prior to moving to America nearly two years ago and explained why she will never choose to live anywhere else. 
"I thought everybody shot each other," Millie Hart, 31, told Fox News. "I know that's really harsh and brash, but the news really portrays America across the world as being a country that's unsafe."
"I really expected that it was going to be like we couldn't leave the house at 9:00 or something," she added. "And it's not that at all, is it?"
WATCH MORE FOX NEWS DIGITAL ORIGINALS HERE
Hart was born and raised in Walsall, a small town called in the West Midland area of England. A few years ago, she met Mark Hart online. After the Ohio native made a few visits, the couple married, and she and her son moved to the U.S. with him. 
"I didn't even come and visit prior to moving, which, looking back, was the best way to do it so I couldn't nitpick what was wrong with it and not come," she said. "I literally got off the plane and I lived here. That was it." 
Now, the couple lives in Ohio with their kids. She said she would expect the U.S. to be similar to England since the two countries are so closely aligned politically and commonly associated by the rest of the world. 
"It's always America and Britain," she said. "I think that's one of the things that shocked me the most. I was expecting it to be more like England, and it's … very different." 
AMERICAN DREAM VERY MUCH ALIVE, GHANAIAN IMMIGRANT, ENTREPRENEUR SAYS ON FIRST ANNIVERSARY OF US CITIZENSHIP
After moving, Hart said the scale and beauty of the country blew her away, along with the conveniences Americans enjoy and the non-judgmental nature among its citizens. 
"I love to travel, I love to see things on weekends," she said. "So here, I will just get in the car and we'll just drive."
"It's just surreal that I'm seeing the places I used to listen to songs about as a kid," Hart added.
But most shocking to her was the feeling of safety she had since her biggest concern about America was the rampant crime and violence she would hear about on the news. 
"When I met my husband, I was always videoing him, and I was like, 'This doesn't look scary on the camera,' and I realized that actually, there are bad places here, but that's not everywhere." 
ROMANIAN IMMIGRANT TO AMERICANS WHO FAVOR COMMUNISM: 'IF YOU DON'T LEARN FROM HISTORY, NOTHING WILL SAVE YOU'
"I've been here almost two years and I've not seen violence ever," Hart said. "Obviously, it depends where you go, maybe I'm just extremely lucky where I live, but I've been to 16 states now and I've never seen it." 
Hart said she isn't oblivious to that fact that crime is an issue in the U.S., but understanding the size of the country and the cultural differences across it made her realize Americans as a whole often get blamed for the actions of a few. 
"My impulse is to defend the people that live here now, and I feel like the actual American public get blamed for the things out of their control, so the Americans as a whole get tarnished," Hart told Fox News. "But most of it's not even them."
"If there's a mass shooting, which are awful regardless of where you live, but the whole of America kind of gets blamed," she added. "The only people that should be blamed is the people that are doing it, not the people that live in the country. That upsets me."
Gun violence accounted for about four deaths for every 100,000 people in the U.S. in 2019 — eight times more than Canada, the second highest country, the Institute For Health Metrics and Evaluation found in April. In the United Kingdom, it came out to less than one per 100,000.
Still, Hart said the U.S. is still revered by many worldwide.
"People still want to come here," Hart said. "People are not oblivious to how amazing it is."
"I just think the news sometimes likes to show the bad instead of the good," she added.
Though England will always be her home in a way, Hart said she now considers herself American and wouldn't choose to live anywhere else.
"When I got my permanent resident card and I had it in my hand and my name was on it, that … felt like I finally got here," she said. 
What's Your Reaction?